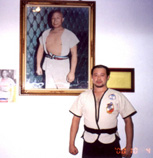 David Chang was born in Taipei, Taiwan in 1964. His father is Chang Tung Sheng's oldest son. Very early in life, he showed an interest in kung fu – much to the delight of his grandfather. As David Chang explains, "Because I had an interest in kung fu, my grandfather was very fond of me. I used to follow him around, play with him, and accompany him to the park, the opera, the countryside, or wherever. In general, however, his demeanor was rather stern so many people didn't feel very comfortable around him. But it never bothered me".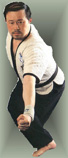 While David was still a child Chang Tung Sheng began teaching him the 'poem of Shuai Chiao', which consists of the Chinese words for all of the characteristic movements and techniques of Shuai Chiao. By the time he was seven he could recite the poem. As David said, "I couldn't read the characters but I could recite the whole poem. I didn't know what the words meant but I could say them.
When I was nine years old Chang Tung Sheng began teaching me the actual movements and relating them to the characters in the poem".
Most of David's training was at home. "Chang Tung Sheng didn't like to teach me in public. In fact, he hated to teach me in public", he said with a smile. "We used to practice in the front and back yards until later on, when I was in high school, we formed a Shuai Chiao team and got a place to practice with tatami mats".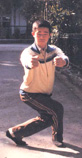 "Most of the time it was just my grandfather and I. Only on one occasion did my mother insist on coming to watch how he was teaching me. I had recently been waking up at night sweating profusely and she was concerned that Chang Tung Sheng had been pushing me too hard. After observing our practice closely, she decided that everything was all right. She left - still a bit suspicious - but satisfied that I was in good hands". When David got older Chang Tung Sheng used to teach him and some of his other top students at the Taipei Botanical Gardens.
"We would arrive early in the morning before 5 A.M. He taught me all the things he learned at Zhang Feng Yan's when he was a kid. Then, after 2 or 3 hours of practice, we would go out for breakfast." His most intensive training occurred while in high school. It was during this time that Chang Tung Sheng taught him the highest level of the Bao Ding Shuai Chiao system - san shou chiao.
While still a college student, he was hired as the coach of the Central Police University Shuai Chiao team (it is not possible to be hired as faculty without a college degree). After graduating from Fu Jen University, he was also hired to teach technical police skills as a faculty member.
In 1986, Chang Tung Sheng's health, which up to that point had been
outstanding for a man his age, suddenly took a turn for the worse. He was diagnosed with esophagus cancer. "After he learned he had cancer he didn't really teach me anything new because I had seen most everything already. Rather, he tried to review everything with me to make sure I knew it well. Anytime I ran across a problem and didn't understand something I would ask him and he would explain it to me and we would make notes. He wanted me to understand the entire system very clearly".

Shuai Chiao organizations wordwide began raising money to help him
cope with the rising medical costs, but it was to no avail. David, who was then serving his mandatory military service, was called home. In the final moments of Chang Tung Sheng's life, he gathered his family around his bed. He asked David, "Do you remember everything I taught you?" to which David replied, "Yes, don't worry". Shortly thereafter, Chang Tung Sheng passed away. After the completion of Chang's funeral services the Chang family placed a public announcement in the
China Times newspaper that the family's kung fu lineage had been passed to David.
Chang Tung Sheng was the second of 5 sons. His older brother passed away at a very young age leaving Chang Tung Sheng the important role of being the oldest son. Chang Tung Sheng and his two younger brothers were all Shuai Chiao champions. Not long after Chang Tung Sheng's passing, Chang's brother, who was still living in Mainland China, contacted the Chang family in Taipei.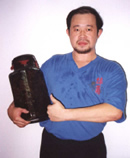 Being distraught that Chang Tung Sheng's health had deteriorated so rapidly, and concerned that the same fate may befall him, he arranged to come to Taiwan to give his condolences to the family. During that time he worked with David to make sure that certain family kung fu knowledge was passed on to him. Afterward, he returned to Hebei province, where he died about 6 months later.
In addition to Chang Tung Sheng and his brother, David also learned skills from other teachers as well. One of those teachers was the son of Liou Fa Mo. Liou Fa Mo was known as "The King of Eagle Claw Chin Na" and was a personal friend of Chang Tung Sheng. When David was still quite young, Liou Fa Mo's son used to visit the Chang household regularly with his 2 sons and 3 daughters. During his visits he taught Eagle Claw Chin Na to David.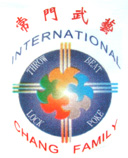 As well as passing on a wealth of kung fu knowledge to David, Chang Tung Sheng also passed on some knowledge that few people are aware of. One of those things was his knowledge of Chinese herbs. Zhang Feng Yan, being involved in farming to support his business and having many connections in the Muslim martial arts community, had acquired a great knowledge of Chinese herbal medicine. Among other things, he had passed some special herbal tonic recipes and also some external 'dit dat jow' recipes on to his son-in-law Chang Tung Sheng.
The tonic recipes are prepared by soaking Chinese herbs in wine for long periods of time. This is referred to in Chinese as "Yao Chou", which means "medicine wine", and is taken internally. There are a number of different formulas. Some are especially for increasing, "qi". Others are for strengthening bones and muscles.
Still others are for different specific purposes. There are also several recipes for external liniment known commonly as "dit dat jow", which is applied externally to heal strains and bruises. David purchased a piece of land on Ho Lung Mountain in Miaoli County, Taiwan, where he grows his own Chinese herbs. "I hope to make my grandfather's herbal recipes available to the word so that everyone can get the benefit of his knowledge of Chinese herbs", said David.
In addition to teaching at the Central Police University, David is the chief instructor of the Taipei County Shuai Chiao Association, which plays an active role in promoting Shuai Chiao in northern Taiwan. The Taipei County Shuai Chiao Association meets weekly in the beautiful Taipei Botanical Gardens near the Lotus Pond, where Chang Tung Sheng himself used to teach. David also teaches at his private studio in Hsi Men Ding – a very lively and trendy section of downtown Taipei – not far from Taipei Main Train Station.
Many people had heard over the years that Chang Tung Sheng had a grandson whom he had trained extensively, but few had actually met David. He was finally introduced to the U.S. martial arts scene in a 2-part interview article that ran in the September and October 2000 issues of Inside Kung Fu magazine. In the article, David traced the career and training methods of Chang Tung Sheng, and also related details of his personal relationship with Chang Tung Sheng, and how he began his training with him as a child.

David recently released a video tape in Europe (left). The tape is an introduction to shuai chiao san shou. More video tapes are currently in the works.
Taiwan's premier kung fu magazine (right) recently featured Chang Shuai Chiao and a tribute to Chang Tung Sheng. In it appeared David Chang along with other top names in the Taiwan shuai chiao scene.
When asked his vision for the future of Shuai Chiao he replied, "I hope there can be peace in the Shuai Chiao word. My grandfather has students all over the word who are very successful.
I hope that all of his students can set aside their differences and work to promote Chang Tung Sheng's beloved art of Shuai Chiao. As we say in Chinese, "Yi ge ren, yi pien tien". This means that each person has their own piece of sky above them – in other words, their own bit of territory and fame. I hope that all of them can join their pieces of sky to become a vast, peaceful Shuai Chiao universe that will be strong and live forever".